Posts tagged 'photography'
About a week ago I was surfing the web on my laptop, as I regularly do before I hit the sack, and came across a N.Y.Times video regarding a relief organization called Corporate Aviation Responding in Emergencies (C.A.R.E.). They are a group of volunteers from the business aviation community that coordinate flights for critical transport during major disasters such as the Haitian earthquake. It was mentioned in the video how they wished there was more media attention for private relief efforts like theirs because they can be far more effective getting to the outlying areas.

Haiti For Blog – Images by Robert Caplin
I immediately shot an email to the president of C.A.R.E. letting her know I'd be in Florida for a week visiting my grandparents, as well as shooting a travel assignment for The N.Y. Times, and I'd be more than happy to volunteer to fly a mission with them to help document their humanitarian effort and give a hand in any way I could.  Much to my surprise, there was a response in my inbox when I woke up saying they'd love to have me!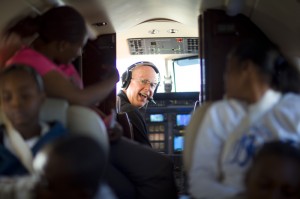 I woke up at 4 AM this past Tuesday morning, left my grandparent's home in Naples, and drove to the Fort Lauderdale Executive airport where I met Sueanne Campion of C.A.R.E., who had arranged for me to fly with pilot Rich Pickett.  Rich had flown in from San Diego and has been flying back and forth from Fort Lauderdale and Haiti transporting relief supplies, medical personal, injured Haitians, and newly-adopted orphans.
Most of the seats had been removed from the Pilatus PC-12 in order to accommodate the relief supplies we would be transporting (ranging from generators, tents, food, walkers, and penicillin).  Once all the supplies were loaded, we took off heading straight into the rising sun and over the Bahamas – it was quite a view.  As I sat in the co-pilot's seat and Rich, who is an aviation instructor, gave me some flight lessons.  He even let me fly the plane for about ten minutes!  (He was sitting right next to me, and for all I know it was on auto-pilot, but it sure felt like I was flying the plane!)
Soon enough we descended into Port-au-Prince.  Rich circled the city once for me to take a few aerial photographs before landing.  Once we landed, Haitians at the airport quickly off-loaded the supplies and numerous relief workers on the ground gathered them up.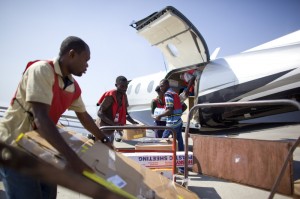 While briefly on the ground at the Port-au-Prince airport, I met another photographer named Stacy Bourne, who originally came to Haiti as a journalist but has since stayed as a relief worker.  We spoke for a bit and she told me about her plan to start a photography program for the teenagers near where she is staying.  I thought it was a great idea, so I'm trying to help get the ball moving on my end.  Here's a video I shot of Stacy talking about this program.
If anyone is interested in volunteering their time to come to Haiti and help – or if you have any old digital camera gear laying around collecting dust – please shoot me an email and I'll help get it to Stacy on the ground.  I, myself, plan to go back for a spell to help her get the program started.
After no more than 30 minutes on the ground, Rich and I hopped back onto the jet and headed to another nearby town called Jacmel.  We again looped around the city so I could shoot a few photos, then landed on the beat-up runway of the Jacmel Airport which was under the control of the Canadian Army.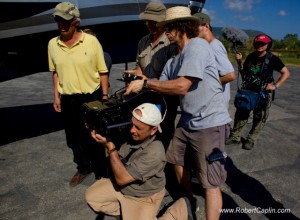 The mission in Jacmel was to medevac four children with severe injuries:  two girls with amputated left legs, a boy with a badly broken leg, and a 17-month-old child with cardiac issues.
The first thing I noticed when I hopped off the plane was an IMAX crew filming us.  I'd never seen an actual IMAX camera before and it was obvious it's quite a setup, requiring a crew of about six.
I headed into the airport where the children were waiting for us and met Dr. Katie Gollotto who lit up the room with her amazing smile and personality.  She introduced me to the children and their parents and I began documenting the process of loading them onto the plane.
Again the turnaround was quick and as soon as we had them in the plane we rushed back into the air because we had to not only beat a storm cell that was headed for Florida, but we also were meeting another private jet that would be transporting the children to Philadelphia for medical treatment.
The flight back to the U.S. with the group of Haitians was truly a wonderful experience.  Obviously it was most everyone's first plane ride of their lives, so for about 3 hours they forgot about their injuries and were simply normal kids again, laughing and squealing watching the clouds roll by.  At one point they all started singing.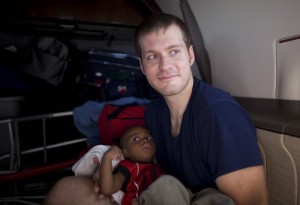 On our decent into Ft. Lauderdale, Rich announced that he had called ahead to have four McDonald's Happy Meals ready for the kids when we landed.  Welcome to the USA!
Beyond a little turbulence we safely landed at Fort Lauderdale where we met the connecting flight (the Philadelphia Eagle's private jet)…and the kids were on their way to Philly for treatment.
I can't express how taken I was by the amazing people who work day-in and day-out to bring relief supplies and support to the people of Haiti.  Major props to C.A.R.E. International's Operation Haiti which has conducted over 500 flights with 2400 passengers and 700,000 pounds of critical supplies.  Over 85 aircraft have been activated for the program, flying more than $4,000,000 worth of flight hours.
To all the volunteers I met and worked with during my brief stint with you, thank you for this incredible opportunity.  I truly hope it is the beginning of a long relationship working together!
Here's some video clips I took:

15 Feb 2010