Hurricane Sandy hits NYC
Four or five days ago I heard there was a hurricane named Sandy brewing and could possibly hit NYC. I wasn't very concerned as I'd been through Hurricane Irene about a year prior with little or no inconvenience to us personally. I live on the Upper West Side of Manhattan close to Central Park which is one the highest parts of the city. Also, I'm in an apartment building which is essentially a fortress of brick and stone as every building down a block touch each-other. It's not like in the movies…there's very few alleys in Manhattan. Also, for the most part, Manhattan doesn't lose electricity from wind or storms because our entire electrical system is underground.
Anyhow, as the storm got closer, there was a little more panic setting in as I saw that the grocery store had massive lines, and the 24 hour fruit vendor on my corner was completely sold out…he never sells out. My wife and I decided to go ahead and get some extra food just in case the worst happened.
I spent the whole day in front of my computer working as the wind began to pick up. I watched the tree outside my window get bent nearly sideways with the continuous gusts of wind. I peeked outside briefly and took a few iPhone videos from the front entrance of my building. I needed to quickly move my scooter to a safer location next to my building in hopes the wind wouldn't blow it over.
It ended up getting dark and I decided to go take another peek, this time I brought my camera to take a few quick snaps out the front door. The photojournalist in me kicked in when I noticed a downed tree at the end of my block, so I decided to throw on my motorcycle helmet and ran down the road to document the damage. Just after I took a few pictures, I heard a horn honking down the street and a loud noise. I turned around and looked back down the street towards my apartment and could no longer see the lights at the end of the intersection, just tree branches and leaves.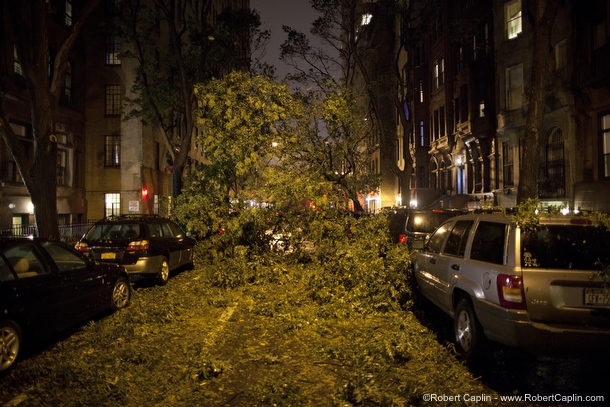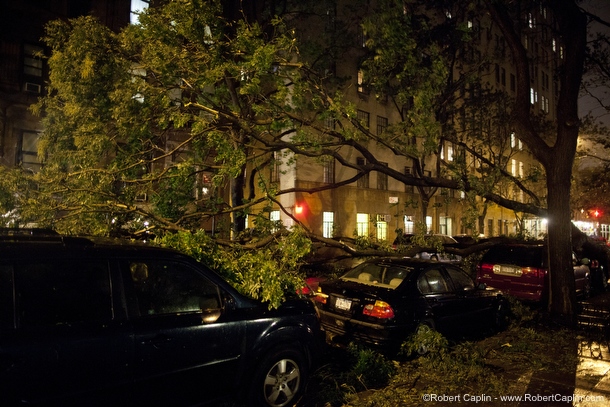 I ran back to my apartment to find that a 5-story tall tree had fallen across the street and onto the front of my apartment building, just where I was standing moments earlier. As the tree fell, it laid across multiple parked cars and just barley missed a taxi coming down the street. The driver braked just in time and rather than getting crushed, he slammed into the tree laying across the road. It was quite shocking as it really made me feel vulnerable and frankly stupid to be out risking my safety to take a few pictures.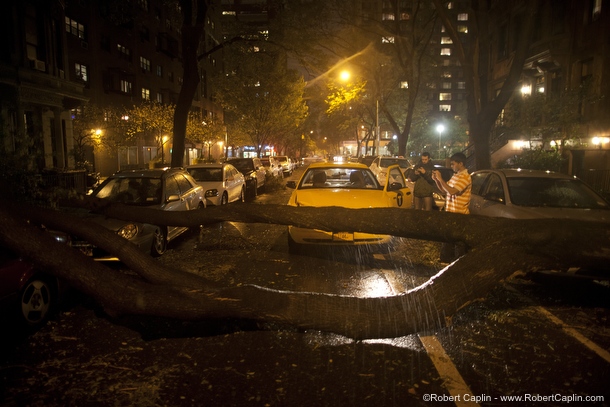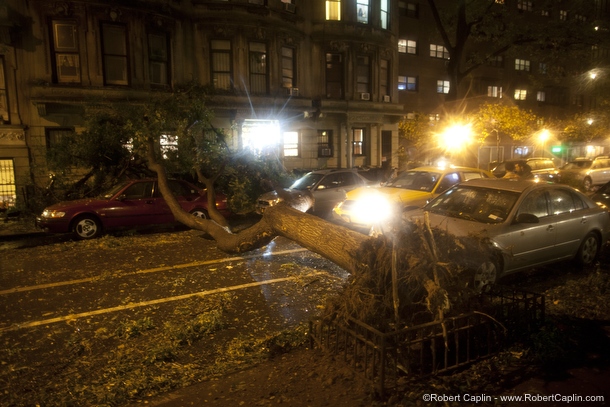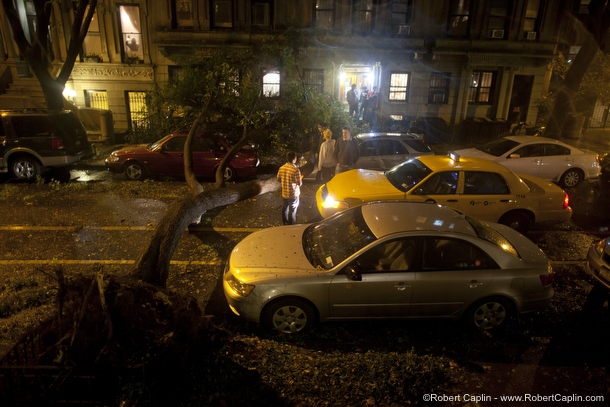 Still, the photojournalist in me kicked in and in a matter of maybe two minutes I ran around the scene taking stills and video. I spoke with the taxi driver and my downstairs neighbor who gave their accounts of the incident. I came home and my wife was pretty freaked out because I'd gone down against her wishes and all she heard was neighbors freaking out and running through the halls. I felt bad that I put her through that.
This morning we woke up after a lousy night's sleep hearing the wind blowing and rain banging on our windows. I jumped out of bed to and quickly ran out with some cameras to go see if there was much damage on my street and surrounding blocks. Only the same two trees were down on my street and the street was a blanket of green leaves and branches. Our block was clearly the worst damaged within a few block circumference due to the old, tall trees that our block is know for.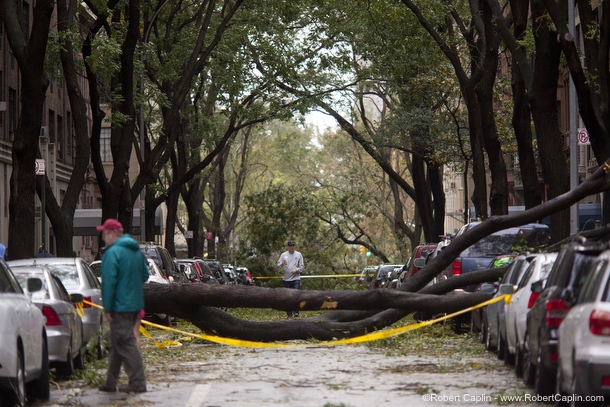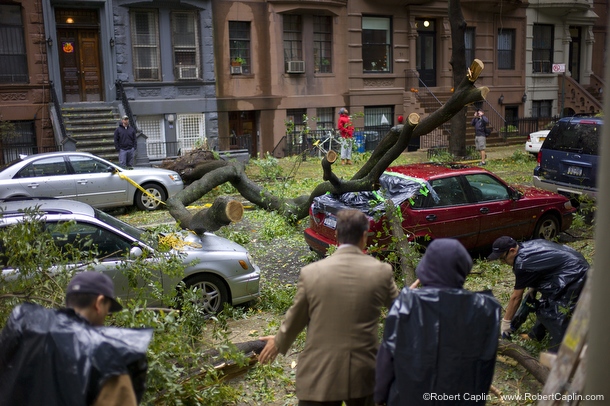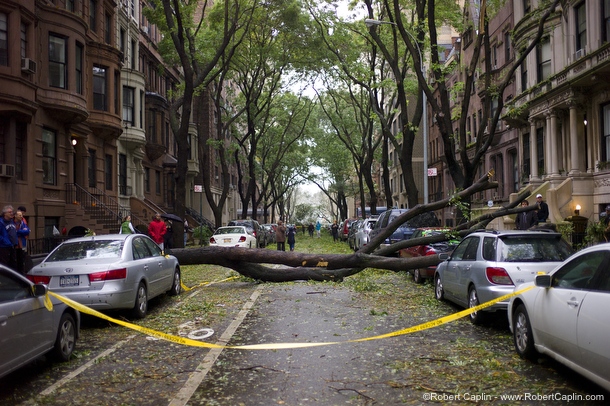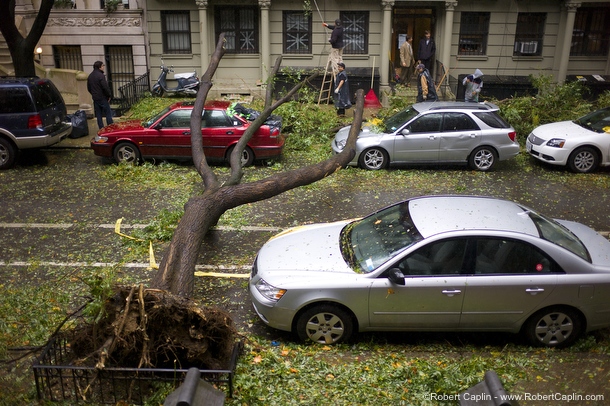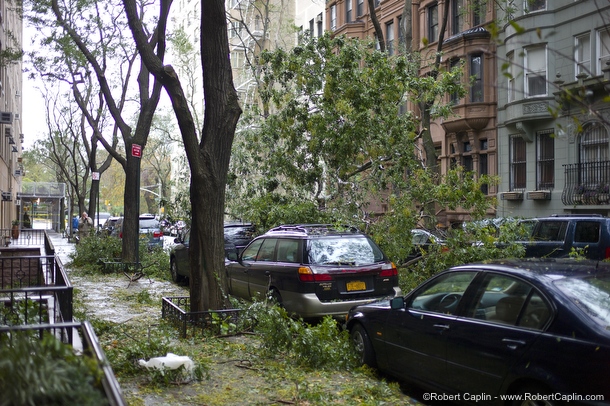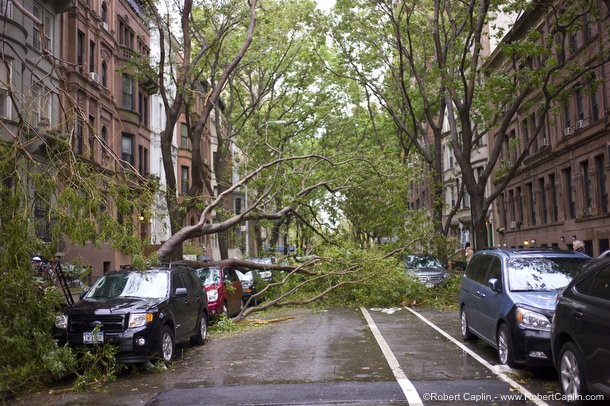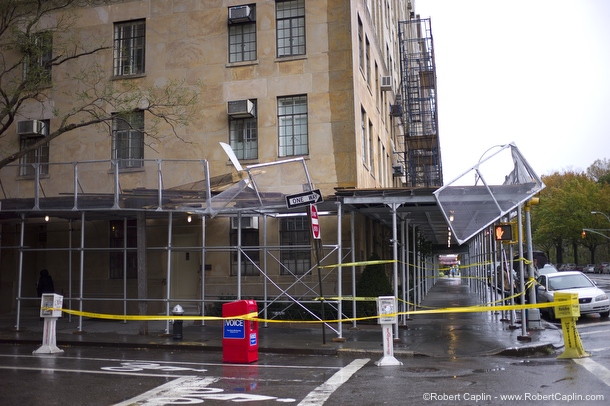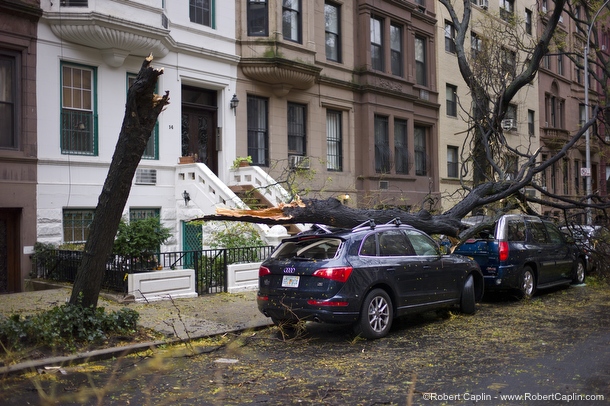 Last night I watched photos come in from my FB newsfeed and on NYTimes.com from my friends and colleagues who were out in the storm making photos. I give kudos to them, but just feel it's not worth the risk. Seeing that massive tree laying where I was standing was a pretty eye-opening experience…there may be great pictures to be had, but nothing is worth getting yourself hurt or killed for a storm photo. Just my opinion.
Comments
comments
Powered by Facebook Comments